Company Formation in Dubai Free Zones
---
Free Zone Company Formation:
ABOUT FREEZONES IN UAE:
A large number of Free Zones are in Dubai and also in UAE. As of the recent count, the list of free zones is in excess of 35 within Dubai alone. Some of the more prominent ones include Jebel Ali Free Zone (JAFZA), Dubai International Financial Centre (DIFC) and many more.
Free Zone Companies are not allowed to trade directly with the UAE market. Free Zones are considered to be outside the jurisdiction of UAE, and under the rules and regulations of each free zone. The companies under the Jebel Ali Free Zone (JAFZA) are responsible for following the rules and regulation of the Jebel Ali Free Zone Authority (JAFZA).
Dubai offers tremendous business opportunities for investors from all around the world to establish their business in Free zones. As far as the procedures and principles are concerned, Dubai offers the most liberal working environment and easy free zone company setup procedures.
WHY FREEZONES ARE ATTRACTIVE: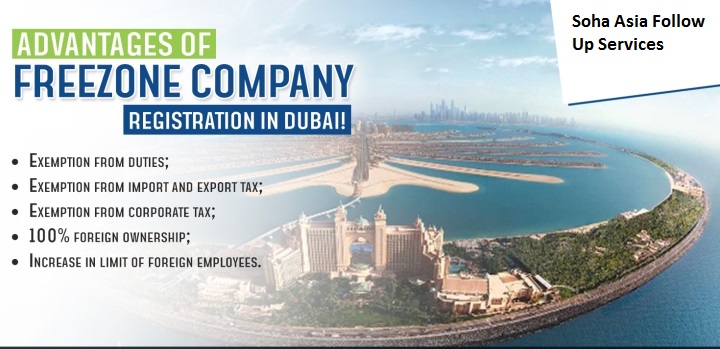 Free zones offer a wonderful competitive advantage for businesses.
A specialized, highly focused and targeted ecosystem
Synergy with vendors, suppliers, potential customers and other players
Full ownership (100% foreign ownership)
Free customs duty benefits to investors
Full tax benefits
This makes free zones are the most advantageous locations in the Middle East for international setups and attracts many companies for Free zone company registration in Dubai.
TYPES OF REGISTERED FREEZONE COMPANIES:
Free Zone Establishment (FZE): Company can be registered with one individual or corporate shareholder.
Free Zone Company (FZCO): Company can be registered with 2 or more shareholders. Shareholders can be either individuals or corporate companies
Branch Office: Companies may not be available in every UAE free zone. There will be some difference according to the rules and regulations of each free zone authority.
Business Activities:
Free zone Business Setup activities are limited to the ones permissible and registered within the same free zone. A local agent, individual or company, is mandatory to engage in any business out of the Free Zone, inside or outside the UAE.
Clients:
Within the UAE, you will be able to deal directly with clients registered in the same free zone.
Visa requirements:
The number of visas depends on the office space, owned or leased in the free zone. Smart office packages offer up to 6 visas, depending on the license and the free zone. A physical office or warehouse has to be leased out of the free zone to avail of more visas.
License Costs:
You will be saving on initial costs of registration as license fees are lower, besides no physical office is required. Free zone authorities allow the licensees to use Flexi desks/smart offices, or common business center desks for limited hours per week.
Ownership:
Full ownership of your company.