Business Set Up
---
What is a business setup?
Business setup involves the steps and processes associated with before, during and after establishing a company in the UAE. The main step is to obtain a trade license which legally allows a company to operate and run its business.
Dubai – the business driver of UAE: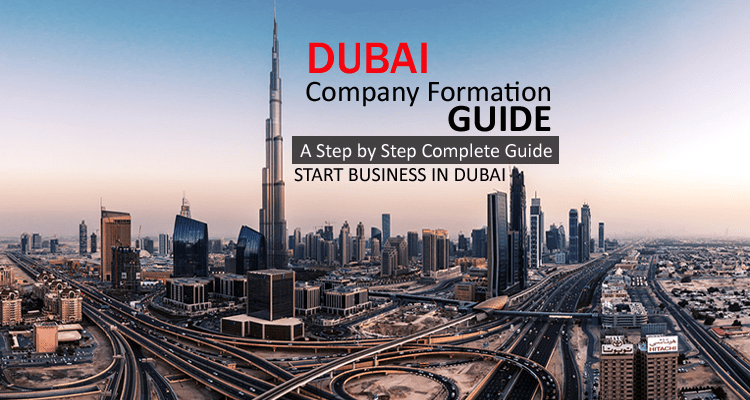 Business setup in Dubai is the perfect choice once you decide to expand or relocate your business to the UAE. As one of the seven Emirates in the safest and fastest-growing country in the region, Dubai is a vibrant, modern and welcoming city, with a high proportion of Expats among its populace. Its geographical location and business-friendly environment render it the most preferred Emirate for new company establishment, multinational companies, and SMEs to expand and set up businesses. As a strategically located connecting point between Eastern and Western parts of the world, Dubai is the trading hub in the MENA region. Register a company in Dubai, UAE to reap the benefits offered by the Emirate.
Mainland Company Formation/Business Setup: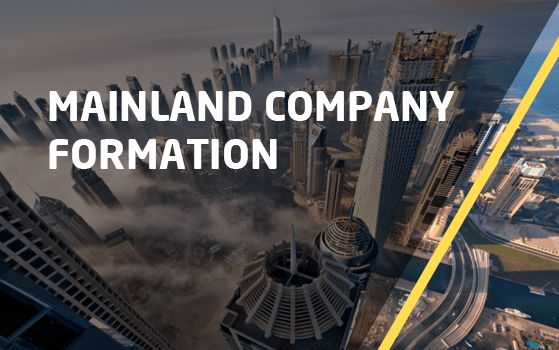 By establishing a Mainland company, also called as an onshore company, you will be able to freely operate throughout the Emirate with no territorial restrictions, however having an Emirati partner or service agent, individual or corporate, holding at least 51% of the total equity is mandatory to operate inside Dubai and other Emirates in UAE.
Exceptions to this rule include:
Business activities that permit 100% Foreign Ownership
Businesses located in Free Zones
Partnerships between UAE National and GCC companies
Types of Companies in Dubai :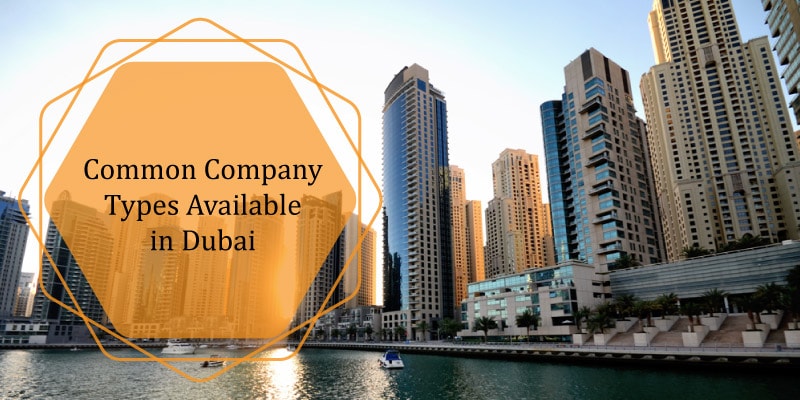 1. A mainland company in Dubai can carry out business across the UAE. The foreign ownership have now extended to 100%. Mainland represents the most developed economy as it is set up directly following the legal structures of the Government policies. A residence visa can be obtained depending on the size of the work premises
2. For a Free Zone Company in Dubai a foreigner can have complete ownership of their business in any of the Dubai free zones. There is no need for appointment of local sponsor or a service agent. A residence visa can be obtained depending on the size of the work premises
3. For an Offshore Company a full ownership is granted to an expat in offshore Dubai only if they have a business outside the UAE. There is no need for an office space for an offshore company, hence residence visa is not granted
A mainland company is a legal entity registered under the Dubai Economic Department (DED) and governed by the UAE commercial company – Federal Law No.2 of 2015 – the New Commercial Company Law, (NCCL). Depending on the nature of the business activity, you may need to obtain external approvals from other local or federal authorities.
Mainland Company Formation:
Business Activities:
The geographical area of doing business on mainland license is unlimited. You will be free to do business in local, neighboring countries of the Arabian Gulf (GCC) and international markets, including free zones, with commercial or professional licenses, and applicable for most business activities, except those that require external approvals from local or federal government bodies.
Clients:
When engaging with government classified clients, you should refer to the mainland's jurisdiction
Visa requirements:
You will be eligible for an E-quota (electronic quota), issued by the Ministry of Human Resources and Emiratization, showing your visa entitlement. This can be increased if needed and is subject to the discretion of the deciding authority.
License Costs:
You will require an office space, to be owned or leased on annual basis, through "Ejari"- a Certificate issued from the land department that makes your annual tenancy contract, legal and presentable to Department of Economic Development (DED) for the issuance of your mainland license. This would increase your business cost commensurately.
Ownership:
According to your business activity, you may require a UAE national agent (individual or company) called Local sponsor who acquires 51% of the company shares. The remaining 49% would be the equity that you would be allowed to hold.
Local companies must have a trade license under any one of the categories below:

Professional license – Issued for service provider companies such as training, management consultancy, etc. Full or partially ownership approval is dependent on the activity requirements. Certain business activities are allowed 49% of foreign ownership, while others have full ownership. In this case, the role of the Local Service Agent (individual or corporate) is limited to the scope of administrative purposes only.
Industrial license – specific for manufacturing enterprises and industrial companies. Valid for a definite period, the industrial trade license obligates the company to have a leased or owned physical warehouse inside the country and related manufacturing facilities.
Commercial license – Adequate for businesses involving trading or retail activities (buying and selling of goods, import and export activities, real estate services, logistics, travel & tourism, auto vehicle rental business, etc.). A maximum of 10 business activities per license is allowed.
HOW TO SETUP A COMPANY IN DUBAI?
Find A Zone
Setting up a company in a Dubai jurisdiction or free zone can be very advantageous. Operating in Dubai means fewer limitations on registration and visas, as well as no corporate tax. Free zones allow 100% foreign ownership and full profit repatriation, among other benefits. We can help you make the best, most strategic decision about your business location.
Select Trade Name & Activities
Choosing the right trade name and activities is critical because it can distinguish your company in the marketplace. But don't worry. Our team of business experts will help you determine the most appropriate name based on your company's location, distinctive qualities and areas of focus.
Choose a Legal Structure
Selecting the best legal form for your company requires solid information and careful consideration about the various options that are available. Dubai allows for sole proprietorships, limited liability companies, professional licenses, but we will help you identify the most suitable choice for your business
Register Your Company
We can help you ensure your business is registered with the proper authorities. We can assist you with everything from signing a memorandum of association, to applying for a trade license and obtaining all the other necessary approvals to begin operating
Secure a Location
Dubai offers a variety of property to accommodate commercial enterprises, from specialized areas for specific industries to office space for almost any kind of company. Our real estate contacts can find the perfect home for your business.
Register Your Staff
We understand exactly what is needed to register expatriates to work in Dubai. We can take care of the necessary visa, work permit and residency permits for your incoming personnel.
How long does a company formation take?
The process for company formation usually depends on multiple factors. The "instant license" track under the Dubai Economic Department allows a trade license to be issued on the same day, provided it meets a list of criteria. Some other licenses that do not fall under the criteria may take a few weeks. The key is to obtain the right business consultancy advisor to help you track your milestones.